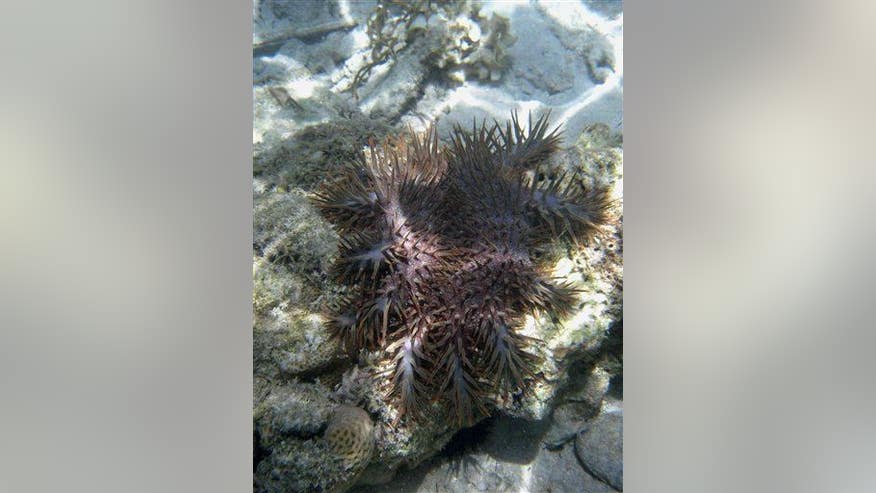 A robot tasked with the unusual job of killing starfish is nearly ready for deployment at Australia's Great Barrier Reef, reports the BBC. The Cotsbot was designed by Queensland University of Technology to eradicate crown-of-thorns starfish, labeled "one of the most significant threats to the Great Barrier Reef" by the reef's Marine Park Authority.
The starfish eat up surrounding coral, and have significantly contributed to a 50% decline in coral cover over the past 30 years, says the authority. Hence, the robot.
"This system has been trained to recognize [crown-of-thorns starfish] from among a vast range of corals using thousands of still images of the reef and videos taken by COTS-eradicating divers," explains researcher Matthew Dunbabin.
After identification, the robot moves in and injects the starfish with a deadly chemical. The technique is already being tested in Brisbane's Moreton Bay, and the Cotsbot will be dispatched to the Great Barrier Reef later this month.
"Over the next five months we plan to progressively increase the level of autonomy the robot is allowed, leading to autonomous detection and injection of the starfish," Dunbabin says.
Crown-of-thorns outbreaks occur about every 17 years. (Meanwhile, researchers elsewhere in Australia have discovered another coral reef that may rival the Great Barrier Reef.)
This article originally appeared on Newser: Killer Robot Is Coming for You, Killer Starfish
More From Newser